October 8th is Octopus Day. (Get it? October-Octo, eight legs… yeah, you get it.) I love octopuses… or is it octopi? Perhaps octopodes. Actually, octopus are solitary critters. They love being loners so much that there's no collective noun for them, because why bother? Anyway, however you refer to them, they're wonderful, intelligent, caring creatures. I've gathered together some goodies to help you celebrate their special day. Have fun! 
The Steamkettle Kids and the Lucky Tentacles
A short story by Lori Alden Holuta. After a hurricane shakes up Steamkettle Bay, Paisley Pockets, Christopher Cogan and Jimmy Cupper have an adventure as big as the sea. (For Ages 10 to 16)
Lucky the Octopus Printable Coloring Page
A printable PDF page for kids of all ages.
My Amigurumi Crochet Octopus Pattern
Make your own OctoPal out of a small skein of yarn, some stuffing and a few buttons.
Tenta-Cool! My Year of Twisted Kraken Madness
When I crocheted myself a Twisted Kraken hat back in early spring, I didn't realize what I was in for. Friends and family immediately began clamoring for hats of their own. And it was such a joyful and adorable clamor that I agreed to make them.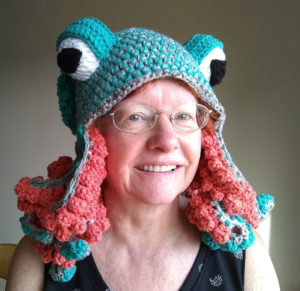 Walking Your Octopus: A Guidebook to the Domesticated Cephalopod
I love this book. It has a special place on my Weird Items wall shelf.

Tentacled Walls Make A Cozy Writing Room
I can't write without these helping hands… er, helping tentacles playfully crawling my walls. They're vinyl wall decals, and can be pulled loose and repositioned. No harm done to the walls at all. Amazon has heaps of these, in various shapes, colors, and sizes. You *know* you want some!
More Octopus Fun Around the Interwebs
Octopuses Keep Surprising Us – Here Are Eight Examples How
International Octopus Day at Scientific American
OctoNation inspires wonder of the ocean by educating the world about octopuses.
The Octopus News Magazine Online (TONMO) "Your Cephalopod Information Center" is home to a lively forum for those in the mood to chatter or ask questions.
Hashtags to watch on Twitter
#WorldOctopusDay
#OctopusDay
#InternationalOctopusDay
#CephalopodAwareness
Hashtags to watch on Instagram
#octopus🐙
#octopusmonth
#octopus
#octopusart
#octopusdrawing
#octopusjewelry
#InternationalOctopusDay